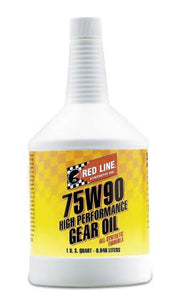 Red Line
Red Line 75w90 Gear Oil - Quart- 1 Quart
Regular price
$19.45
Sale price
$21.95
Red Line
Red Line Synthetic Gear Oil is designed to provide the highest degree of protection and greatest efficiency for your drivetrain. Red Line provides a complete line of drivetrain lubricants which are optimized for differential, transmission, or transaxle use over a wide range of temperatures. Proper selection depends upon the manufacturers' requirements and whether the application is for passenger automotive, commercial, or racing use. Red Line Gear Oils contain polyol ester basestocks to provide excellent lubrication even under extreme conditions of high-loading and high- temperatures--their natural lubricity provide excellent slipperiness which reduces the sliding friction in hypoid gears to reduce wear and temperatures. The synthetic basestocks have a natural multigrade property, so large amounts of unstable thickeners are not required to manufacture our gear oils, which means that Red Line Gear Oils will provide a stable viscosity for even extended periods of use. Red Line also manufactures gear oils which can be used in limited-slip differentials without the use of additional friction modifiers.

*75W90*
Our most popular gear oil, this is the preferred product in nearly all car and light truck differentials, both conventional and limited-slip. 75W90 is preferred for most racing applications. It contains friction modifier which is recommended for limited-slip units. 75W90 Gear Oil can be used in many transmissions and transaxles; however, other Red Line lubricants have better frictional properties for rapid synchronization. Exceeds API GL-5.

*Limited Slip Friction Modifier*
Compatible with petroluem or synthetic gear oils, this product will significantly reduce the friction break-in of differentials, reducing break-in temps for as much as 50 degrees F. Limited slip or positraction units will often chatter without use of this product or a gear oil with a similar modifier, so add only enough to eliminate the chatter and avoid making the plates or clutches too slippery.
---
More from this collection